MASSAGES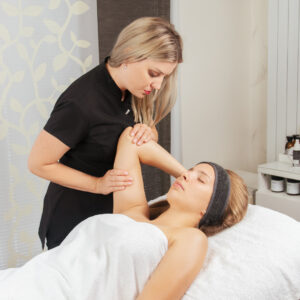 RELAX YOUR MIND AND BODY.
AT SKINLAB YOU CAN ENJOY SEVERAL TYPES OF MASSAGES.
"ARABIAN OIL MASSAGE" NEW from October 2022
This method extracts natural oils from the flowers, bark, leaves and roots of plants and is effectively used to promote good physical and mental health and well-being. The aroma is inhaled, it works wonders in stimulating the brain, which in turn provides a therapeutic and healing effect. These aromatic oils have the miraculous power to affect our senses and are the best natural remedy for stress and bad mood.
Oil massage therapy is the treatment or prevention of disease using essential oils. It includes reducing pain and anxiety, increasing energy, short-term memory and relaxation.
REJUVENATING LIFTING AND REJUVENATING MASSAGE FOR THE FACE, NECK AND DECOLLET
A deep rejuvenating and regenerating facial massage that will provide a lifting effect on tired and dull skin using special points to support facial lymph and relieve swelling. The kidney, neck and décolleté will thus receive the right care and restore their elasticity.
SPORT MASSAGE
Special techniques for relaxing muscles and pain after sports activity. Using aromatic oils and massages, we release tension in every part of your body. After the massage, your muscles will be relaxed and relaxed.
FOOT AND HAND MASSAGE
If you experience pain in your hands or feet, then this massage is for you; for example, if you spend all day on your feet (especially if you can't wear supportive shoes) or actively strain your hands, it will greatly reduce swelling and pain. However, a well-executed reflexology massage, hitting specific pressure points on the hands and feet, has been proven to relieve pain and discomfort in other areas of the body as well!
SCALP MASSAGE
A soothing feeling and not only that! Scalp massage strengthens the scalp, creates better blood flow, stimulates lymphatic drainage, stretches hair follicle cells, fights dandruff, relieves stress, all of which improve hair growth and production. This massage also relieves the mind, tension and stress that is created due to external influences.
Massages can be combined with facial treatments and rituals.
The lenght of massage is recommend: 30 min / 60 min / 90 min.