A GOLD STANDARD IN COSMETOLOGY "CHEMICAL PEELS"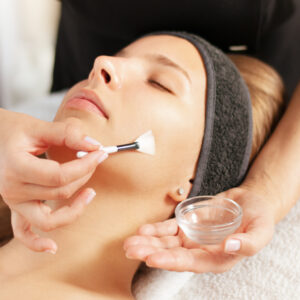 A chemical peels promises the skin a return of its density, suppleness, firmness, and smoothness. Thanks to patented active ingredients ("time release technology"), the chemical peel provides a completely new dimension of renewal and rejuvenation of the skin of the face, neck, décolleté and the whole body. The structure of the skin changes progressively and its texture is rejuvenated. This synergy multiplies the results and maintains them for a longer time period. The skin reacts immediately after the first treatment. Nevertheless, repeated treatments (4 – 6 minimum) are recommended to achieve the perfect results. 
After a consultation with regard to your desired result and in consideration with your skin type, the cosmetologist will recommend one of the following chemical peel treatments. 
Surface chemical peel (dehydrated, sensitive skin, fine lines, acne)
Deep chemical peel (hyperpigmentation, deep wrinkles, post-acne, dermatitis)
Active convalescence lasts 24 – 48 hours, during which time expect:
slight or mild redness

edema

touch sensitivity

feeling tense

slight peeling of the skin. Do not remove it
Recommendations after treatment (1-7 days / until the skin relaxes):
After the treatment, sera which correspond to the problem for which the treatment is being carried out, for example sera containing hyaluronic acid, vitamins are suitable. Soothing and moisturizing cleansing products (foam, oil, cream).

Skin creams with soothing substances (zinc, niancinamide, aloe vera, allantoin, etc.).




The skin must be constantly hydrated, you must not feel dry skin.

UV protection must be a matter of course to avoid complications in the form of pigment changes. We recommend applying creams with SPF factor 30/50 + at least 5 days after the procedure.
Avoid products that contain exfoliating agents, such as salicylic acid, mandelic acid, glycolic acid, lactic acid, etc.
Contraindication:
In case of cold sores, bruises, eczema, keloid scars, rashes or in case of contagious skin diseases, psoriasis, skin cancer or fungal infections.

Drug use: antibiotics, antidepressants, photosensitizers, high blood pressure drugs, anticoagulants or some herbal extracts.

After cosmetic treatment: mesotherapy, laser treatment, aesthetic surgery, botulinum toxin application.

Pregnancy
TIP:
For a perfect final effect, it is recommended to clean the skin instrumentally or apply the Dermaplaning technique (blade hair remover).